Press Release: Denomie Memorial Scholarship Award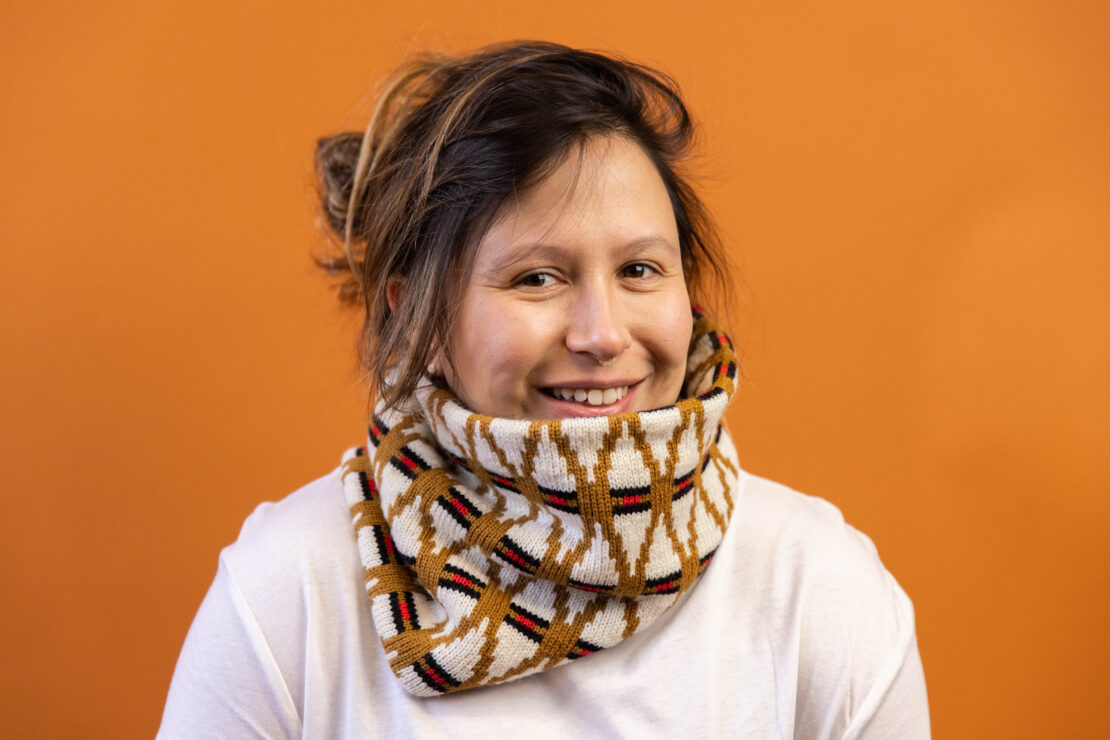 JIM DENOMIE MEMORIAL SCHOLARSHIP AWARDS SECOND $10,000 GRANT TO NATIVE ARTIST RECIPIENT
MINNEAPOLIS (July 21, 2023)  — Maggie Thompson (Fond du Lac Ojibwe) has been named the recipient of the second Jim Denomie Memorial Scholarship. Created in partnership with the Denomie/Wilson family, All My Relations Arts Gallery, and Bockley Gallery, the annual $10,000 prize recognizes a Native artist who best exemplifies the values Denomie demonstrated in his own career: commitment to excellence, generosity of spirit, and engagement with community. Denomie passed away in March 2022 at age 66.
The multimedia works of Maggie Thompson expand various textile traditions' inherited ways of being and becoming. Thompson skillfully and intuitively works with both natural and synthetic materials to address personal and universal experiences of loss, grief, and love.
Selected for the 2023 Renwick Invitational at the Smithsonian American Art Museum, Thompson has recently exhibited at the Plains Art Museum and Minnesota Textile Center. Her recent solo exhibitions include Just Friends at Bockley Gallery (2022) and Dakobijige / She Ties Things Together at the Watermark Center in Bemidji, Minnesota (2021). She has been awarded grants from the Jerome Foundation, the Minnesota State Arts Board, and the Native Arts and Cultures Foundation, and her work is collected by the Minneapolis Institute of Art, the Minnesota Museum of American Art, and the Minnesota Historical Society, among other public institutions.
Thompson holds a BFA in Textiles from the Rhode Island School of Design (2013). In addition to her art practice, she is a curator, and owns and operates Makwa Studio, a creative space and brand creating wearables that incorporate Native textile designs. Thompson is based in Minneapolis. For more information about Maggie, visit: makwastudio.com.
"As a talented artist, Maggie shows a deep commitment to her artistic practice and a generous heart that is equally committed to supporting her community." – Diane Wilson.
Jim Denomie (La Courte d'Oreilles Ojibwe) was an internationally acclaimed artist whose work earned numerous awards–including the McKnight Distinguished Artist award–for his imaginative imagery, brilliant use of color, and visual stories that combined humor with piercingly honest truth-telling. Denomie was also passionate about supporting and mentoring other artists. The tremendous outpouring of love and support following his brief illness and passing in March 2022 inspired his family to create the scholarship as a way to honor and continue his legacy. See more of Denomie's work »
"Jim's unique vision as an artist was matched by his passion for championing young artists. This scholarship embodies both, in the best way possible." – Todd Bockley.
The Minneapolis Institute of Art is currently exhibiting, The Lyrical Artwork of Jim Denomie from July 8, 2023 – March 24, 2024.
The Jim Denomie Memorial Scholarship is administered by partner All My Relations Arts Gallery/NACDI, a 501(c)3 non-profit organization, where Jim Denomie has exhibited in the past. The scholarship is completely funded by donations from family, friends, and supporters. Scholarship partners include the Denomie/Wilson family (wife Diane Wilson, children Cheryl Lane, Sheila Umland, Cody Cyson and Jodi Bean), and Bockley Gallery (Todd Bockley) who has been Denomie's gallerist for more than 15 years. Bockley Gallery is assisting in the establishment of the Jim Denomie Estate and will continue to represent and exhibit Denomie's art.
To support Native artists by donating to the Jim Denomie Memorial Scholarship, visit All My Relations Arts and click the "donate" button.