Our Work in the Community
We offer consultation in a variety of ways for our communities. Please contact us and let us know how we can be helpful.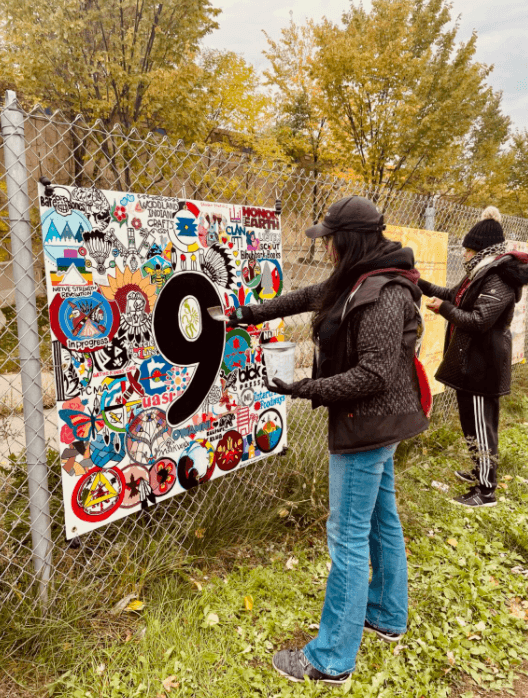 Never Homeless Before 1492, by Courtney Cochran
In 2018, one of the largest homeless encampments in the history of the state of Minnesota developed on MnDOT's highway right of way in Minneapolis in the American Indian Cultural Corridor on TH55/Franklin Avenue. The site was eventually occupied by between 200-300 residents, and many of the residents of the camp were American Indians representing many tribal affiliations. The encampment had difficult public health conditions, multiple deaths and fires. Residents of the camp deemed the adjacent noise wall the Wall of Forgotten Natives and an emotional connection to the site was felt by many.
NACDI partnered with the Minnesota Department of Transportation in the creation of a temporary art installation located on the chain-link fence currently at the site of The Wall.
NACDI/AMRA contracted artist Courtney Cochran to lead the artistic design, community engagement, and community art fabrication of the project. The artwork is composed of 23 4'x4' fluted polymer panels that each have a letter in the foreground and visual imagery of a relevant Native topic or theme in the background. When affixed to the fence the letters spell out, "N-E-V-E-R H-O-M-E-L-E-S-S- B-E-F-O-R-E 1-4-9-2".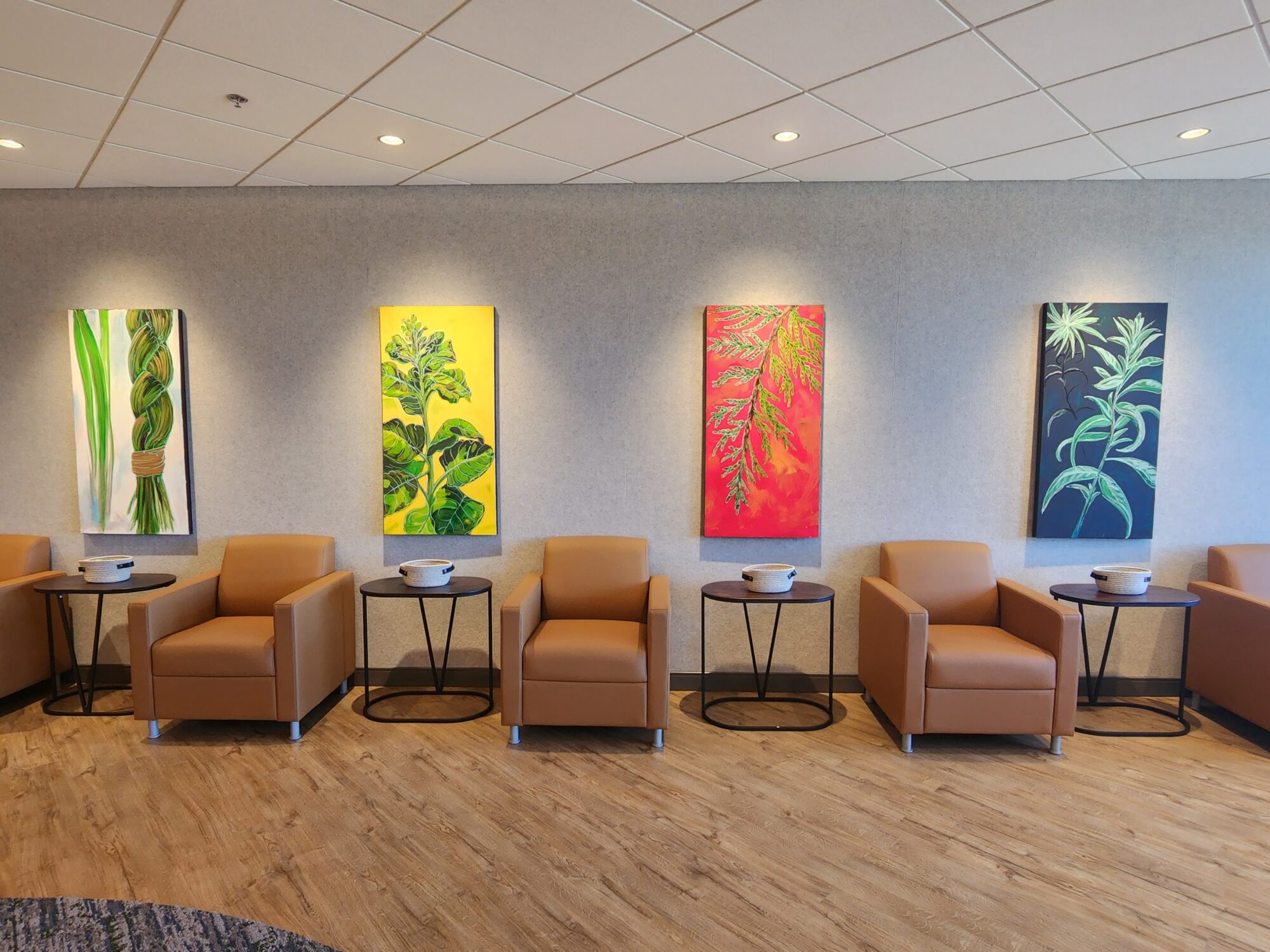 Hamm Clinic Partnership with Artist Moira Villiard
All My Relations Arts partnered with Hamm Clinic to create an artist-led community artwork installed in the lobby of Hamm Clinic's new building located in Saint Paul. Hamm Clinic's intention in the commissioning of this artwork was to celebrate the Indigenous Peoples' land now occupied by Hamm Clinic and serve their mission to promote mental health with culturally responsive, relational care for adults. Artist, Moira Villiard (Fond du Lac, direct descendent) was selected to lead the design and fabrication of the artwork.
Through positive, spiritual and cultural foundations facilitated by elder advisor, Mildred Richard, Moira Villiard and AMRA hosted a series of community conversations exploring the topic of mental health, how it impacts our communities, and ways in which we can achieve healing and recovery. These conversations were utilized by Moira as inspiration for the development of her designs for the final artwork, which is meant to uplift, comfort and call attention to traditional Indigenous medicines and healing.